Welcome to June Mendoza's Internet Gallery
"Portrait painting is a fascinating, hard but hugely rewarding profession. You work with so many different people from every walk of life in so many different parts of the world."
She drew as a child and, aged about twelve, became conscious that she was already on the portraiture road. Since then she has continued without break doing commissions but always tempering this work with self-generated and non-commissioned projects. The latter are her 'pickups' - faces she sees and pounces on to sit for her.
The selection of paintings on this web site represent work from throughout June's career. They are loosely categorised in the menu below.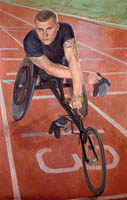 Huge congratulations to David Weir!
Multiple Gold Medalist, London Parlympics 2012.
David Weir MBE is an elite British Paralympic wheelchair athlete from London, England. At the 2012 Summer Paralympics Weir won three golds at the Olympic Stadium in London. On 2 September 2012 in the 5,000 metres, on 4 September 2012 in the 1,500m and on 6 September 2012 in the 800m.

Artist & Illustrators Article
Artist and Illustrators Magazine run an article entitled "Famous Faces" on June Mendoza for the July 2010 edition.

The Artist Article
"The Artist" Magazine Nov 2000, featured June Mendoza in their Masterclass section.
June Mendoza AO.OBE.RP.ROI.HonSWA is a member, amongst other art societies societies, of the Royal Society of Portrait Painters. She is one of the world's foremost portrait painters. She undertakes commissions for portrait painting on a wide range of subjects, examples of which are displayed on this Internet gallery. Her commissioned work includes a number of portraits of the Queen and members of the Royal family, foreign dignitaries and a wide range of portraits of personalities from the Arts, Music, Government, Business and the professions. Her commissioned Group portraits include the House of Commons, the Australian House of Representatives, City Guilds and Boards of many companies and institutions. Please enjoy visiting her internet gallery of commissioned portraits and subjects she chooses to paint from all walks of life.